Engineering and Polymer Science faculty receive Center for Tire Research funding
05/18/2023
The Center for Tire Research (CenTiRe) recently announced funding for research proposals submitted by The University of Akron's (UA) College of Engineering and Polymer Science faculty. The CenTiRe advisory board approved funding for four new research projects this year, with UA receiving three.
"Congratulations to our faculty on their newly funded CenTiRe projects. These selections continue to confirm UA's strong research capabilities on advanced materials," said Dr. Jae-Won Choi, professor of mechanical engineering and CenTiRe site director at UA. "It is noted that our faculty members submitted 14 pre-proposals and 7 were selected as finalists to submit a full proposal in the past solicitation. A new request for proposal will be distributed in August and ongoing participation from UA faculty is expected."
Congratulations to the following faculty members for their commitment to fostering interdisciplinary research, advancing innovation, and promoting excellence and collaborative research.
---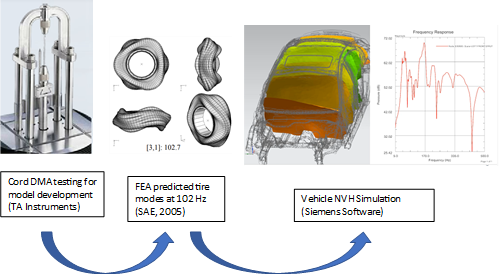 Tire Cord Properties for FEA Modal and Steady State Dynamic Analysis
Dr. Michelle S. Hoo Fatt, Professor of Mechanical Engineering
Funding: $125,000 over 2 years
Research Area: Tire Testing
Project description:
The goal of this project is to develop a procedure for characterizing and accurately modeling dynamic properties of tire cords for use in noise, vibration, and harshness (NVH) simulations of tires and it promises to contribute significantly to the development of new technologies in tire testing.
Dr. Hoo Fatt's research may lead to advancements in tire materials, design, fuel efficiency, and environmental sustainability, ultimately benefiting both the industry and consumers.
---
Carbon Negative Butadiene CO2 Polymers: Material Synthesis and Property Evaluation
Dr. James Eagan, Assistant Professor of Polymer Science
Funding: $140,000 over 2 years
Research Areas: Materials and Sustainability
Project description:
Rubber can be obtained from natural plant or synthetic chemicals, each with their own advantages and disadvantages. The balance of sustainability, performance, and economics is critical to successful materials. This project will develop new chemistry for converting carbon dioxide (CO2) into rubbers and evaluate the performance in tire applications. In order to be successful, the amount of CO2 and the structure of the polymers will be varied in order to understand the resulting properties.
This project presents an innovative approach and potential to address key challenges in the industry by promoting sustainable practices while fostering innovation. Dr. Eagan's project proposal exhibits scientific excellence and offers potential long-term benefits in terms of environmental conservation and improved tire performance.
---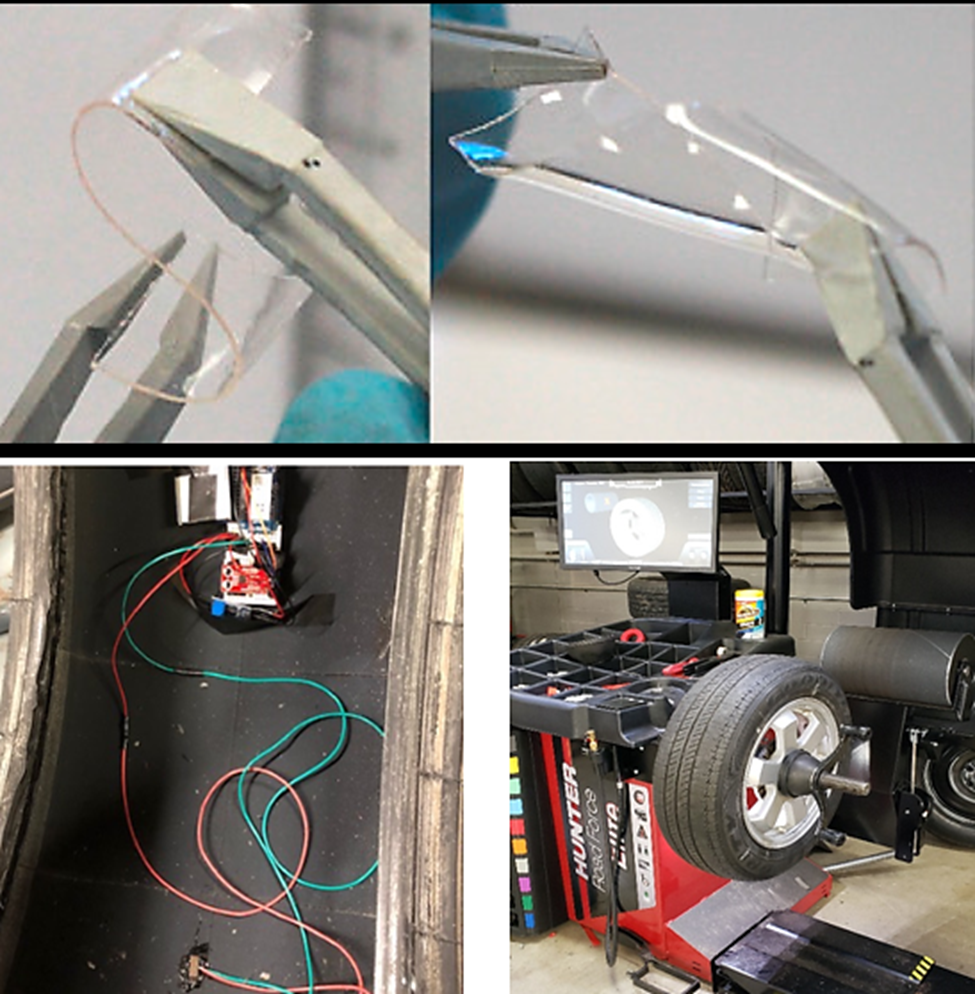 Flexoelectric Polyelectrolyte Elastomer for Tire Sensors and Tire Energy Harvesters
Dr. Thein Kyu, Distinguished Professor of Polymer Engineering
Dr. Siamak Farhad, Associate Professor of Mechanical Engineering
Dr. Jae-Won Choi, Professor of Mechanical Engineering
Funding: $210,000 over 3 years
Research Areas: Tire Materials
Project description:
This project aims to develop a novel material, the flexoelectric polyelectrolyte elastomer (FPE), capable of functioning as both a sensor and/or an energy harvester in tires. Unlike traditional materials used for these purposes, this material is a highly flexible plastic with superior performance. It can also be easily incorporated into tire production processes. The aim is to make FPE accessible to the tire industry, which can utilize it without modification or customize it to meet their particular sensing or energy harvesting requirements.
---
About CenTiRe:
CenTiRe is a consortium of tire and tire-related industry members and conducts leading-edge, pre-competitive research in materials, tire physics (including modeling), testing, manufacturing, and sustainability at The University of Akron and Virginia Tech, supported by NSF I/UCRC program. Through modeling, testing, and demonstration of integrated solutions and systems, it provides first-class technology development, research, and solutions to its members from the tire, vehicle, materials, testing, and road transportation companies and government agencies.
---
RELATED CONTENT:
---
Story by CEPS Marketing.
Media contact: Cristine Boyd, 330-972-6476 or cboyd@uakron.edu.
Share