THE UNIVERSITY OF AKRON'S DRS. NICHOLAS AND DOROTHY CUMMINGS
Center for the History of Psychology
In Association with the Smithsonian Institution
About the Center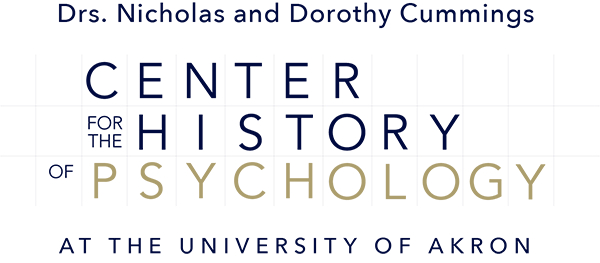 The Drs. Nicholas and Dorothy Cummings Center for the History of Psychology, located at The University of Akron in Akron, Ohio, collects, preserves, provides access to, and interprets the historical record of psychology and related human sciences. Read more.
The Center houses the Archives of the History of American Psychology, the National Museum of Psychology and the Institute for Human Science and Culture.
Read our mission and values.
The Cummings Center is located on lands that have been home to many diverse nations, including the Ohio Seneca and Cayuga, the Lenni Lenape (Delaware), the Miami, the Shawnee, the Wyandot (Wendat), the Ottawa (Odawa) and the Ojibwe Nations. These lands were ceded in the 1805 Treaty of Fort Industry and the forced removal of tribes through the Indian Removal Act of 1830. The Cummings Center pays respect to the land and lives of Indigenous Nations past and present, and is committed to a process of continual learning, reflection and reconciliation.
Read The University of Akron's Full Land Acknowledgement.
Announcements
Register now for the 9th Annual Benjamin Lecture in the History of Psychology!
Registration is now open for the 9th annual Ludy T. Benjamin, Jr. Distinguished Lecture in the History of Psychology. This year's speaker is
Rosie Phillips Davis, Ph.D., ABPP
, professor of counseling psychology at the University of Memphis and former president of the International Association of Counseling Center Service and of APA's Society of Counseling Psychology. She cofounded the APA's National Multicultural Conference and Summit. Davis will share
"From Cradle to Chapter Three: The Impact of Poverty on My Life"
on
Thursday, May 18, 2023
.
Learn more and register online.
Congratulations to the 2022 Baker Fellowship Recipient
Congratulation to the first recipient of the David B. Baker Fellowship in the History of Psychology:
Michael Stead
! Michael is an MA student in York University's Historical, Theoretical, & Critical Studies of Psychology program, researching eugenic feminism and developmental psychology in early 20th-century America.
Learn more about the Baker Fellowship.
Location, hours and contact
73 South College Street, Akron, OH, 44325-4302
Museum and Institute Hours:
Please note that the National Museum of Psychology will be closing early, at 4:00 pm, on Wednesday, April 5.
Tuesday, Thursday, Friday and Saturday: 11:00 am - 4:00 pm
Wednesday: 1:00 pm - 8:00 pm
Sunday and Monday: Closed
Current health & safety precautions.
Archives: By appointment
Phone: 330-972-7285
Email: ahap@uakron.edu
Parking: Free parking is available in the parking lot adjacent to the building. Visitors can also park in Lot 30 at the corner of College and Market streets. Metered parking is available along South College Street.
---
Follow Us
Cummings Center for the History of Psychology

Institute for Human Science and Culture

Donate now to support the Cummings Center for the History of Psychology.
Sign up to join the CCHP email list for events and news.