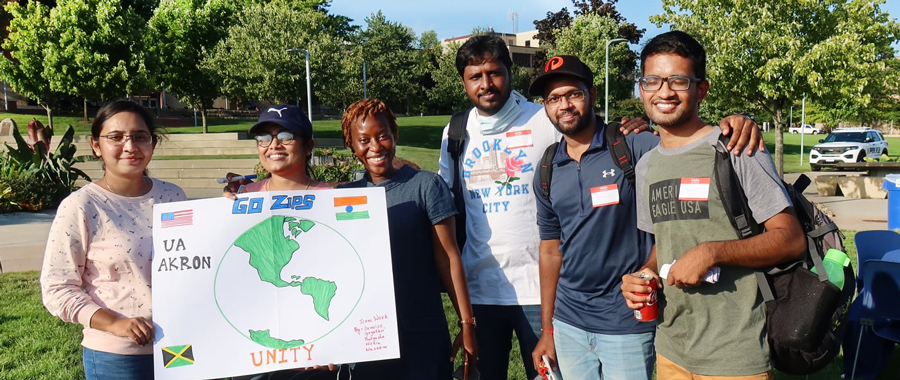 Current international students
The International Center assists all international students from orientation to commencement. We can help with visa, immigration, or status concerns, housing, campus and community integration (including conversation partners) and much more.
COVID19 information:
Scam prevention
On this page:
---
Employment Information for International Students
Work Authorization and Employment Options – Nov. 17, 2022
Maintaining F-1 Status, CPT, and OPT:
Attorney Farhad Sethna – The Basics of U.S. Immigration through Employment:
---
F-1 and J-1 Students: Maintaining Status
Students in F-1 or J-1 nonimmigrant status must follow federal regulations to maintain lawful status in the U.S. Click on your nonimmigrant status below to read more about maintaining status at The University of Akron.
If you have questions, email immigration@uakron.edu or call 330-972-6349 to set up an appointment to meet with an advisor at the International Center.
Visit the following government websites for more information:
Handbooks:
---
Groups for International Students
A number of groups on campus and in the community make it easier for you to adjust to living in the U.S. and getting to know both UA and Akron.
---
Immigration Forms
See our forms directory to report changes, apply for work authorization, information packets and applications related to F-1 and J-1 status etc.
---
Immunization update
As you may be aware the United States and other countries are experiencing a resurgence in vaccine-preventable measles infections.
Immunization information you need to know
---
Tax Information for 2023
We will help guide you through what you need to do comply with US tax law and understand the tax filing requirements of your visa. All non-immigrants in the US who were present at some time during 2022 are required to file tax related documents. The deadline for filing taxes in 2023 is Tuesday, April 18.
International Student Programs & Events
International Friends Program
The International Friends Program connects international undergraduate students with local families to develop meaningful intercultural exchange, friendship and support for international students while they are in the USA.
---
Conversation Partners Program
The Conversation Partners Program gives international students a chance to improve their conversational skills with native English speakers. It is an opportunity to speak in English, socialize, meet new people who want to help you feel welcome in the U.S. and learn more about American culture.
If you are interested in participating, learn more and sign up here!
---
International Education Week
International Education Week (IEW) is an opportunity for international students, faculty, and staff to highlight the rich cultural diversity we have here at UA. The annual event, held each October or November, features cultural performances, international food, guest speakers, and more.
If you are interested in participating, contact international@uakron.edu.
---
Events calendar
See the university's events calendar to learn about upcoming shows, lectures, exhibits, gatherings, athletics and more.
International Students Resources