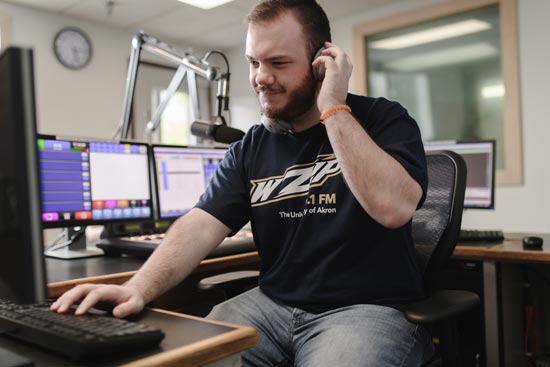 Students in the WZIP studio in Kolbe Hall. WZIP is one of the most-listened-to student-run radio stations in the country and provides opportunities students to gain experience in several areas.
WZIP Radio (88.1 FM)
WZIP is a commercial-free radio station that is operated by students and located on the campus of The University of Akron, where it has been since 1962. Rhythmic Contemporary Hit Radio is our music format but the beat of the station is maintained by the student members.

WZIP Programming
We are a music station but also offer other types of programming to satisfy a broader range of listeners. Sports Power Talk is a weekly sports talk show hosted and produced by our members. The WZIP News Break is a public affairs program that is produced by our news department. WZIP is also well known for featuring polka music every Saturday morning – it's an extremely popular program that is produced in-house! In addition, there are several syndicated news/talk programs that are broadcast on weekends.
WZIP Listeners
WZIP has more than 125,000 (or more) unique listeners per week. People of all ages and backgrounds are among our listeners but about half of them are under 25 years old.

WZIP Non-Commercial Status
The FCC allows WZIP and other non-commercial stations to give on-air mentions of donations that are made to the radio station. WZIP has a team of students who actively seek donations.
WZIP Members
Students serve as working participants, not interns, as DJs, news or sports reporters/anchors, music programmers, etc.
WZIP is...
one of the most-listened-to student-run radio stations in the country
recognized for excellence by regional and national trade organizations
heard by more than 125,000 people
serves as a stepping stone to professional employment
What can I do at WZIP?
Students can usually choose the departments they want to join:
DJ – on the air, playing the tunes and interacting with listeners
Music Programming – selecting & editing the music
News – interviewing, writing stories and creating packages for on air use
Production – creating recorded sweepers, legal IDs, etc.
Promotions – website maintenance, co-coordinate appearances, special event planning
Sports – writing sports copy, hosting a talk show, covering sports events
Underwriting – contacting businesses & earning commission for donations
---
How do I join?
Request and complete an application at the WZIP/ZTV offices on the 3rd floor of Kolbe Hall (see on map)
Schedule an interview with the general manager
If accepted, you will be placed in a training program that consists of four weeks of guided training with the general manager and student mentors
Complete the remainder of your training on your own, with guidance from students and faculty.
Motivated students can begin training and be on the air in the same semester!
---
What are the benefits of participating?
WZIP gives students, at minimum, to create a foundational skill set that would benefit them in careers in broadcasting. The hands-on approach demands that students learn how to operate studio equipment, use their voices, create audio and written content as well as conduct interviews, interact with diverse groups and produce material that is heard by tens of thousands of people!
Students are able to use and test some of their classroom material in real-life situations. This is not a class project and it's not a simulation. WZIP is a working radio station!
Perhaps more importantly are at least two additional components. Professionalism is a concept that is difficult to teach but must be learned. It is an absolute requirement on the air and in the hallways. Next, WZIP is a major part of the way most of its members define their college experience. It is a place where lifelong friendships begin.
---
Listen now
---
Answers to your questions
Can I be a member if I'm not a communication major? Yes. In fact, about 30 percent of our membership consists of students who are focused on other areas of study.
I think it would cool to be on the radio but I hate my voice … You will quickly get used to hearing your own voice. Remember that the way we hear ourselves is often quite different from the way other people hear us.
I'm not sure I have time to take this on. Only you can decide if you can manage your time in a way that allows you to participate in our programs. Prospective employers at radio or television stations will assume that you have audition material.
---